Land Use
Agricultural land is continually being lost to urban development and this is likely to remain the same for many years to come with the housing shortage (Indicator: Loss of soils). Projections for urbanisation suggest that 1.3% of England's land will change from rural to urban use between 1991 and 2016; increasing the percentage of land in urban use to 12.2%.
Part of this urban development is for residential housing. A significant proportion of new homes are still built on farmland. Between 1996 and 1999, 40% of the land developed in England for residential use was previously in agricultural.
Over the past 20 years, the area of woodland in England and Wales has increased by 23% while farmland has decreased by 3%. A significant change in land use is seen in areas being set aside from cereal production (Indicator: Land use). The drop in the area of land set aside between 1996 and 1998 was due to reduced payments made to farmers under the set aside scheme. The reintroduction of set aside grants in recent years has reversed this trend.
Land Use Map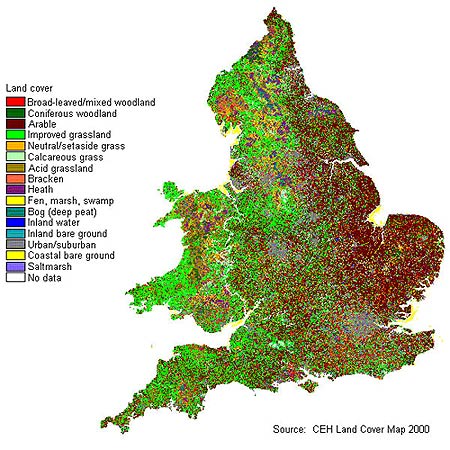 Land uses in England and Wales in 2002 were:
70% agriculture, comprising
26% crops
37% rough grazing and improved grass
7% other uses
9% woodland.
21% urban and land not otherwise specified
This information is provided by the Environment Agency and based on data from the Forestry Commission and from the annual agricultural and horticultural censuses carried out by Defra and the National Assembly for Wales. There is little information available on the extent of urban land. The figure above is derived by subtracting the area of land used for agriculture and forestry from the total land area. An estimate made in 1991 put urban land at 10.6% for England and 3% for Wales.
Speak with a Vantage Land agent